Description
The Growlight Garden LED comes to you as a complete ready to grow garden.
Just assemble then add your favorite starting mix, seeds or starter plants of your choice, and you will be growing in no time.
Its just that easy!
Want to get ahead start on next seasons seed starts?
The Growlight Garden will get your favorite seeds started and ready to transplant quickly.
Growlight Gardens compliment any kitchen
Get Creative with your Garden, easy to personalize!
Growlight Gardens come complete and Ready to Grow
Whats included:
Two SunBlaster 24″ 17 Watt 6400K Grow Lamps with Ballasts
Two SunBlaster NanoTech T5 Reflectors – maximizing output
T Power Cord- interconnecting the two grow lamps
Garden Canopy – adjustable to 18″ above the plant canopy
Heavy Duty Base –  serves as the reservoir for auto watering
Raised platform – for auto watering via the wicking mat
Wicking mat for auto watering
Four Seedling Trays –  providing both auto watering capability and aeration in one great tray
Here's a Bonus!
All  Growlight Garden LED comes complete with  auto watering capability via our "Wicking System", taking the guess work out of watering!
How it works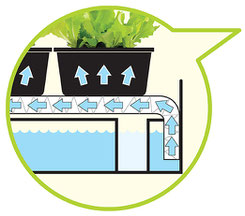 The Wicking System provides a capillary movement where it  draws water from the base reservoir, via the wicking mat and carries it to the tray bottom. These trays have been specifically engineered to allow for just the right amount of water to enter the growing medium.
No guess work as to how much or when to water, we done the work for you. The trays design also allow for proper air circulation between the wicking mat and the tray bottom providing good air movement and helping to keep the root zone healthy and happy.
We recommend rotating your trays every few days to prevent the roots from growing into your wicking mat and making post harvest clean up a breeze.
Wicking mats can be re-used or replaced as needed.